November 5th, 2011, News updated, Galleries 1 - 10 contain 724 images

---

July 24th, 2011, News updated, Galleries 1 - 10 contain 724 images

---

April 11th, 2011, News updated, Galleries 1 - 10 contain 724 images
Are you new here and feel disoriented? Click here for site map and instruction manual
--- You can follow Lea on Twitter now - LeaKThompson
---
---
- July 24th, 2011 - Shame on me, I should add this much sooner - Lea stars in a hit show called - Switched At Birth, watch it every Monday on ABC Family, it's really great! Plus, you can learn the sign language, too :-)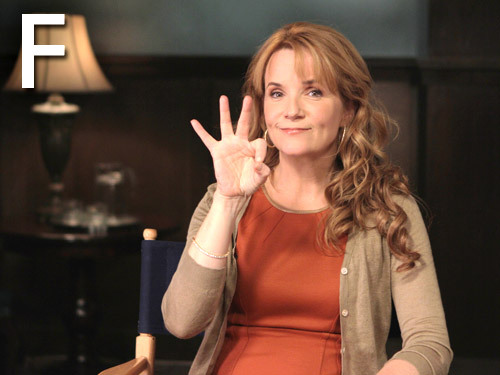 ---
- April 11th, 2011 - There is a Facebook page of Lea's new movie The Trouble with the Truth - www.facebook.com/troublewiththetruth, so don't miss it.
---
- October 16th, 2010 - BTTF Reunion 2010 - short interview with Lea and M. J. Fox, about the good old BTTF times... http://www.youtube.com/watch?v=VnqfnaKEaio&feature=player_embedded,
---
- June 18th, 2010 - New interview with Lea, mostly about BTTF serie: listen to it here MovieGeeksUnited, or download this file convertplaylist.m3u. For Lea skip to 11 min.
---
- February 26th, 2010 - Some good news:

- New TV pilot (TBS): Charles Dutton, Lea Thompson and Jeff Davis are all the latest additions to the drama pilot, about Nigel Wells (Gary Cole), "a veteran Philadelphia homicide detective who takes on his inexperienced, incompetent nephew Ronnie (Matt Jones) as a partner." Dutton is set as Captain Elliot Mackey, "the tightly wound, immaculately dressed" deputy of detectives. Thompson then is playing Abby Wells - Ronnie's mom, Nigel's sister - a "single, beautiful, open-hearted" woman who is Nigel's moral compass. Lastly, Davis is on board as Detective Frank Frankel, "a smug, resentful prick" who serves as Ronnie's nemesis in the squad. Andy Breckman penned the hour and is executive producing.
- New movies announced: The Convincer and The Gatekeeper
- and finally, Lea should be director again: Lea Thompson is moving forward with preproduction on her "Damaged Goods" project — that will have the "Jane Doe" mysteries and former "Caroline in the City" star behind the cameras, as a director. Though Thompson's directed herself in "Jane Doe" movies, this will be her first shot at helming a big-screen romantic comedy. It's about a high-flying, chic Malibu lifestyle guru who finds herself falling for a guy who operates a used furniture store in New Mexico and, well, owns chickens. Can love prevail? James Denton is cast and subsidiary roles are being filled now.
---
- December 31th, 2009 - OK, thanks to Lealover from Yahoo lealovers group for this one: Lea was a guest star in ACME comedy and she made 2 short movies, almost a year ago. Link for The Check is a few lines lower since March 15, but I didn't know about Lost (bear rulez :-D ) and here are sketches from theatre:
Opening
Business
Redneck Hollywood Review - btw, I totally agree with him :-)
Bigger girls
Collaboration
Quick Affair
Boss

---
- December 28th, 2009 - Lea will be a guest star in TV show "Greek" next year, read interview with her here:TV Guide Interview . Greek returns to ABC Family on Monday, Jan. 25 at 10/9c.
---
- December 13th, 2009 - OK, some more news: you can buy The Mrs. Clause on DVD, typical Xmas movie, let's hope will be available Splinterheads and Rock Slyde. Spring 2010 should be out some kind of Caroline in the City reunion, called I Was A 7th Grade Dragonslayer , link leads to imdb page and there is even a trailer.
Two more movies are announced for 2010, Prettyface and Mayor Cupcake
---
- April 25th, 2009 - Lea is appearing at the 9th Annual FirstGlance Film Festival Hollywood at Raleigh Studios on May 3, 2009 at a screening of her film, BALANCING THE BOOKS. (Thanks Tai Fauci for info)

---
- March 20th, 2009 - I just got the Howard the Duck DVD with special features and I have to say that it's definitely a MUST HAVE for all Lea's fans. BTW, for interview with Lea about Splinterheads go HERE

---
- March 15th, 2009 - Watch Lea in a short movie called The Check , funny stuff :) .
For more info about Splinterheads go to the official page Splinterheads , but it looks like Lea doesn't have the biggest part in it... Thanks to the Yahoo Lealovers group for those infos.
---
- September 19th, 2008 - Well, there are some news: Lea finished her work on independent movie "Splinterheads" and right now is making a comedy movie called "The Mrs. Clause" in Vancouver. After this she will do a musical workshop of "Please don't eat the daisies", which originaly was the movie from 60s with Doris Day. And in November you could see her in another musical "I love my wife" with Jason Alexander...
---
- August 9th, 2008 - OK, this site is still not dead :-) Career is updated, announced movies added, let's hope we will see them some day... Plus Lea should be directing movie called The Swingin' Sounds Of Jack Amsterdam but I'll believe it when I see it.
---
- February 22nd, 2008 - I usually don't mention releasing of Lea's movies on DVD, but - I just got Howard the Duck DVD! It's without any extra material or 5.1 sound or whatever, but finally Howard with great picture and sound quality. It is available on amazon.co.uk, unfortunately for USA fans it's region 2 and not 0, but region lock is not an unsolvable problem anyway...
---
- September 21st, 2007 - 2 new trailers can be seen on the net (thanx to guys from lealovers group for info) Senior Skip Day and Final Approach When or where the movies can be seen is still unknown...
---
- December 30th, 2006 - one of the new Lea's movies, "A Question of Identity: The Debbie Smith Story" should be aired on April 23, 2007 on Lifetime TV.
Another movie called "Senior Skip Day" is scheduled to be screened at the Slamdance Film Festival in Park City Utah on Monday, January 22. Consider it not confirmed and thanx to lealover from lealovers newsgroup for this info.
---
- September 15th, 2006 - as you probably know, Lea was eliminated from the Celebrity Duets. You can watch her performances here http://www.youtube.com/results?search_query=lea+thompson&search=Search
If you want to save those videos, use this adress http://javimoya.com/blog/youtube_en.php and follow the instructions. It may not work in Internet Explorer or Maxthon browser. For sure it works in Firefox.
---
- September 3rd, 2006 - so, I guess you know that already from Lealand and Lealovers newsgroups: if you are from USA Lea needs your support, vote for her, next Celebrity Duets will be aired on Thursday 7th! For promo pics in hi-res go to Gallery 10

---
- August 18th, 2006 - watch Lea on Celebrity duets on FOX! Beginning August 29th.

---
- July 7th, 2006 - A new episodes of Jane Doe are scheduled (there should be 10 shows total at least)
Some Kind Of Wonderful will be released in special editiom on DVD
for further info go to www.bttf.com
---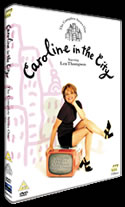 - July 7th, 2006 - 4th season of CITC DVDs available now, click here! - www.revfilms.com


---
- February 3rd, 2006 - Three seasons of CITC DVDs available here, season 4 coming soon! - www.revfilms.com

---
- January 1st, 2006 - Trailer for Ten Tricks available here - Ten Tricks
Thanks to Stephen from www.bttf.com
---
- December 16th, 2005 - Lea attends the Memoirs of a Geisha film premiere at the Kodak Theatre on December 4, 2005. Pic is here Gallery 9 More to come next week.
---
- December 10th, 2005 - OK, more movies announced on IMDb.com. New episode of Jane Doe - Yes, I remember it well will be aired on Hallmark channel in January, another movies Out of Omaha and Doubting Thomas Jane Doe is officially confirmed, movies not. More info when I find some, as usual...
---
- August 19th, 2005 - Lea in a new movie??? New movie with Lea is announced on IMDb.com. The name is Ten Tricks and its cast list is HERE
More info when I find some...
---
- July 15th, 2005 - The Harder They Fall, next Jane Doe episode was announced for August 14th, but it was cancelled or postponed, nobody knows what is going on. Check out yourself www.hallmarkchannelmysteries.com
Update of the update :-) - I asked the Hallmark channel and this is their answer: Thank you for your recent contact with Hallmark Channel. This particular episode will be scheduled at a later date. Thank you for your interest.
OK, consider me stupid, but I still don't know anything...
---
- April 29th, 2005 - Lea attended Stand Up for Mentoring evening for Comedy, April 27th. Pics in Gallery 9
---
- April 15th, 2005 - As usual, Lea and Madelyn could be seen on What A Pair benefit UCLA Breast Center, April 8th. Pics in Gallery 9
---
- April 9th, 2005 - Lea stars in the movie Come Away Home. In theaters since April 29th. For more info go to official pages www.comeawayhome.com
---
- March 25th, 2005 - Lea was the guest in the Tony Danza Show, aired March 8th. She said that there is gonna be more episodes of Jane Doe and she will direct one of them, at least. Another good news!
Thanks to Stephen from www.bttf.com
---
- January 7th, 2005 - Jane Doe, Lea's new TV show starts January 21st. BTW,

---
For older news click here 2004 - 2003 - 2002 - 2001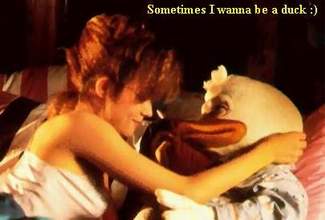 Very special thanx to Erika. Thanx also to Jose Antonio, Steven Charles, Michael, Brian, TheMachoJedi, Ernesto, DocIgnatowski, Marcus for help and support. And my greetings to Adam from 90 faces of Lea Thompson
Another special thanx to Stephen Clark from www.bttf.com
If you got some comments or suggestions, or you know something what is not here, please let me know.
Everything what looks like THIS is clickable. Optimalized for 1024x768 and more, at least 16bit color and IE5.5. If you use lower resolution than 800x600, upgrade your bloody piece of junk! Known problem in NN4.5 is: on-mouse-over link underlines don't appear, because this crap doesn't support it. For further info go here
---


---
This is a frame from Hoprdox's Lea Thompson Fanpage